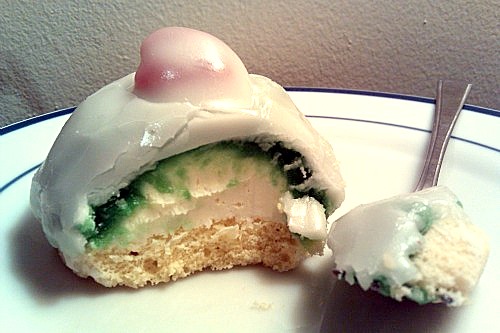 1:13 pm
[Scene:  The kitchen of Tranquilla convent, well appointed with red Dockrell's wallpaper and decorated with daguerreotypes from the studio of Stefan Virag of Szesfehervar, Hungary.  The room smells of American elderflower soap and of winds that blow from the south.]
Saint Patricia:  Great Christ and Holy Protector we are running out of everything!  And even more curious, table twelve has used up their pillar of salt, do we have another?  Oh!  Oh!  Oh dear God you are bleeding!  What is that on your plate, bread loaves, bells?
Saint Agatha:  Don't touch me!  I want to coagulate and your touch will just liquify everything.   It's my breasts, I think we should fry them in butter.
Saint Patricia:  We fry everything in butter.
Saint Agatha:  No lard for us!  I'm hard pressed to think of anything else to give these albatrosses.  We already ran out of the rabbit pie, the port soup, the lap of mutton with chutney sauce is gone, and that base barreltoned man Ben Dollard ate the barons of beef.
Saint Patricia:  He drank all the Bass number one too.
Saint Agatha:  What, two?
Saint Patricia:  Too.  We still have some of the mulled rum.  This is a crowd to rival the Glencree dinner!  Remember?  For that one we had to bring out bread with drippings to satisfy them all.
[A priestylooking chap name of Pen something (Pendennis? My memory is getting.  Pen . . .?) opens the kitchen door and squints in with weak eyes.]
Saint Agatha:  Where are they all coming from?  Like flies to a picnic.  Perhaps we should start the entertainment now, then serve the sticky stuff.
Saint Patricia:  Good idea.  Where is old Goodwin?  Lucky we have him, I understand this will be his last performance.
Saint Agatha:  They always are.  Look behind you, we have lots of Plumtree's in the cupboard, let's send it out now.  After that we won't have much left to offer.
Saint Patricia:  Not if that woman in the elephantgrey dress keeps sticking her fingers into every pie.  She can be rude.  Did you see her?  And after the band plays, we have.
Saint Agatha: We have sugarloaves with caramel.  Our staple food.  And once that's gone that's it.  We'll have to barricade our doors with barbed wire.
Saint Patricia:  Well, I am glad to communicate with the outside world, but today I have suffered!
Saint Agatha:  I agree.  Just think back to our morning devotions.  Happy.  Happier then.  Here, let me straighten your brown scapular.  There you go.
Saint Patricia:  Thank you.  I'd better get back out there.  Some of them, Masons I think, are making noise about some lottery tickets.  Some scandal or other.  Thing like that spoils the effect of a night.
Saint Agatha:  Yes.  But it is all part of the stream of life, no?
Saint Patricia:  Yes, the stream of life.